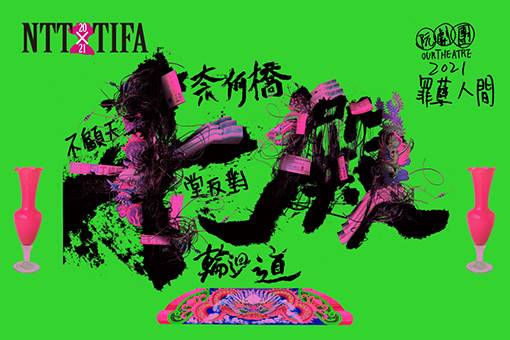 2021 NTT-TIFA Our Theatre Palaces
04/30(Fri)19:3005/01(Sat)14:3005/01(Sat)19:3005/02(Sun)14:30
Introduction
Every city has a building just like an "urban tumor": hard to sell and impossible to afford. They once offer every possible sort of pleasure and youthful desires. However, the building slowly falls from its grace with every scandal and incident, albeit in prime location. Palaces is set in one such building.
The story spans three decades, tracking the stories and relations of the building's residents. Inside Out gives audience a suspicious accident, a suicide, an affair, an impasse, and relentless knocks on the door - these are some of the snippets. Outside In stages gut-wrenching scenes such as the theft of a kidney, a murder, a phone scam, a vigilante, and a broken heart. The two installments can be enjoyed either independently or together.
Artistic and Creative Team
Our Theatre
Our Theatre was founded in Chiayi, a city in Southern Taiwan. Its mission is to develop an artistic vision distinct from urban perspectives by incorporating local cultures into modern theater. It is committed to bring performing arts to the masses, and seek opportunities for contemporary "folk theater." Over the course of 17 years, it has staged more than 700 performances and received several nominations for the Taishin Arts Award. It also had the honor to represent Taiwan in several international festivals including Edinburgh Festival Fringe in the UK, and Sibiu International Theatre Festival in Romania.
Dramaturg / HO I-fan
Consultants / WANG Yu-hui, LIN Chung-i, LIN Mao-hsien, SIO Tîn-tshun 
Producer & Director / WANG Jhao-cian
Playwright / WU Ming-lun
Set Design / LI Po-lin
Lighting Design / KAO Chih-chien
Video Design / WANG Cheng-yuan
Costume Design / LIN Yu-yuan
Sound & Music Design / KO Chun-yuan
Music Licensing / Taiwan Colors Music
Choreography / LIN Su-lien
Magic Consultant / LIN Lu-chieh
Stage Manager / CHEN Chao-chun
Production Manager / Dub LAU
Performers / WANG Chao-yang, YU Pen-chieh, Spark LEE, LEE Ming-che, TU Shih-hue, CHOU Cheng-hsien, CHOU Chun-peng, LIN Wen-yin, HONG Chien-tsang, CHANG Chien-yu, CHUANG Ting-yu, CHUANG I-tseng, CHOONG Seong-wei, CHEN Hsin, YEH Teng-yuan, YANG Chih-chun, Ling TANG, CHUNG Pin-chiao, KU Hsuan, MC JJ 
Commissioned by National Performing Arts Center - National Taichung Theater, National Kaohsiung Center for the Arts (Weiwuying), National Theater & Concert Hall   
 
Title
2021 NTT-TIFA Our Theatre Palaces
Time
2021/04/30(Fri)19:302021/05/01(Sat)14:302021/05/01(Sat)19:302021/05/02(Sun)14:30
Notice
※The performance is a two-part serial, each part 165 minutes, including a 15-minute intermission.
※Performed in Taiwanese. Chinese and English surtitles are provided for Apr. 30th and May 2nd performances, Taiwanese and English surtitles for May 1st performances.