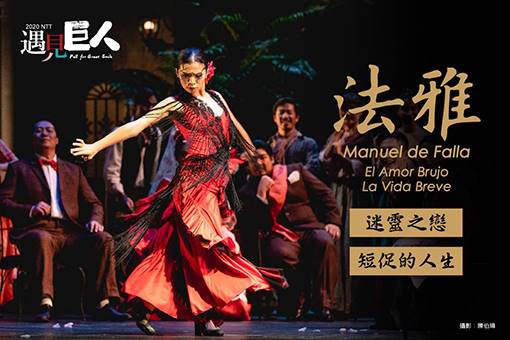 Falla Opera & Flamenco double bill - El Amor Brujo & La Vida Breve
09/26(Sat)19:3009/27(Sun)14:30
Introduction
Known as the godfather of opera in Taiwan, TSENG Dau-hsiong fulfills his promise to Falla's sister Maria del Carmen, made half a century ago, in this double bill performance of El Amor Brujo and La Vida Breve. In El Amor Brujo, a love that spans human and supernatural realms is sealed in the famous "Danza Ritual del Fuego", while La Vida Breve tells a tragic love story through flamenco dance and melancholic melodies, with its "Danza Española" a concert favorite. As a composer, Falla was a master in adding Moorish and gypsy flair to traditional Spanish melodies, creating a distinct blend of mysterious colors and everchanging rhythms, and although these two works differ widely in style, both possess a tonal character that is decidedly Spanish.
Artistic and Creative Team
Director / TSENG Dau-hsiong
Conductor / Manuel Busto
Choreography / HO Lien-hua
Executive Director / Max CHEN
Assistant Conductor / Toni HUANG
Stage Design / CHANG Wei-wen
Costume Design / KAO Yu-po
Lighting Design / LEE Chun-yu
Video Design / HSU Yi-chun
El Amor Brujo
Candela / HSUEH Yu-hsien
José / SZU Shi-min
Lucia / CHUNG Tsai-ni
Carmelo / Howard CHEN
Hechicera / HO Lien-hua
Cantor / CHENG Hai-yun
La Vida Breve
Salud / CHIANG Chi-chen
Paco / Ezio KONG
Abuela / WANG Yu-hsin
Sarvaor / LIAO Yu-meng
Carmela / CHENG Hai-yun
Manuel / HSIEH Ming-mou
Cantador / Rios LI
Peregrino / LIU Cheng-hwa, Bello CHANG
Bailarina Solista / HSUEH Yu-hsien
Guitarrista / Roberto Zayas
National Taiwan Symphony Orchestra
Genio Dance Group Flamenco de Formosa
Taipei Opera Chorus
Special Thanks to Spanish National Ballet
Title
Falla Opera & Flamenco double bill - El Amor Brujo & La Vida Breve
Time
2020/09/26(Sat)19:302020/09/27(Sun)14:30
Duration
110 minutes, including a 20-minute intermission.
Language/Surtitle
Performed in Spanish with Chinese surtitles
Price
500/800/1200/1800/2600/5000(Sponsorship tickets)/10000 (Sponsorship tickets)