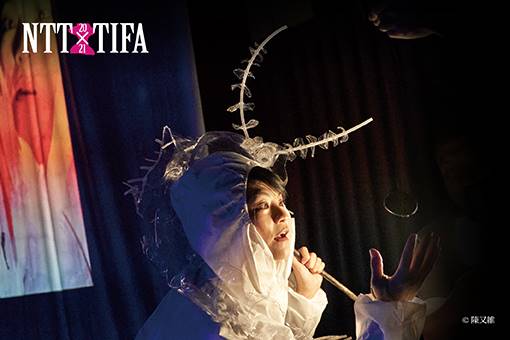 2021 NTT-TIFA Puppet & Its Double Theater╳figuren theater tübingen On the Edge of Reality
04/17(Sat)14:3004/17(Sat)19:3004/18(Sun)14:30
Introduction
Fear pervades the world we live in. Some of these fears stem from ourselves, some from others; we can't shed them, we can only try to live with them.
Taking inspiration from the Chinese texts Classic of Mountains and Seas and Monsters of Taiwan, as well as Jorge Luis Borges' Book of Imaginary Beings, this international collaboration shapes puppets, objects and live images into the monsters of uncertainty that surround us every single day. Through the poetic, mesmerizing art of puppetry, On the Edge of Reality takes us beyond time and space to a world without fear, where we are no longer afraid to be ourselves.
Artistic and Creative Team
Puppet & Its Double
Since its founding in 1999, Puppet & Its Double has toured nearly three dozen cities worldwide. The company's philosophy of "everything can be a puppet" has led to prolific experimentation with puppet making and theatrical narrative techniques. Since 2013, its base has been the Lìzé Puppet Art Colony; founded by the company itself, it has rapidly become Asia's foremost puppet art creative institution, where artists from home and abroad come to collaborate and exchange ideas.
figuren theater tübingen
Founded by Frank Soehnle and Karin Ersching in 1991, figuren theater tübingen has developed a distinctive style combining the performing and visual arts. Viewing the almost boundless freedom of puppet art as the key to developing new forms for the stage, the ensemble has collaborated with a wide array of artists to create a new aesthetics from the exploration of materials and objects. Their works have been a frequent guest at art festivals worldwide, with the ensemble having performed in 55 countries around the globe.
Director / Frank Soehnle, CHENG Chia-yin
Text / CHEN Hung-yang, CHENG Chia-yin
Puppet Design / YU Meng-ju
Lighting Design / Helmi Fita
Costume Design / WANG Yi-ching
Stage Design / LI Po-lin
Music Design / LI Guang-xin
Visual Design / SUN Min
Associated Music Design & Live Music Performer / HSU Shu-hui
Joint Creators & Performers / YANG Bo-wei, YANG Wen-han, LIU Yu-jane, LU You-tien, WEI Ling-chuan, SU Ling
AR Implementation / Ilja Mirsky, Photography and VR Design Department of Huafan University
Artist assistant / Christian Glötzner
Technical Director / BlackRice Studio
Title
2021 NTT-TIFA Puppet & Its Double Theater╳figuren theater tübingen On the Edge of Reality
Time
2021/04/17(Sat)14:302021/04/17(Sat)19:302021/04/18(Sun)14:30
Ticketing Info
NTT Member pre-order from 1st January. Tickets available from 8th January.
Ticket Packages
Purchase four or more tickets of NT$1000 for a single program and receive a 25% discount.
Purchase any five or more programs at the same time and receive a 22% discount.
Other Discounts
10%-25% off for NTT membership holders.
10% off for National Theater and Concert Hall, National Kaohsiung Center for the Arts (Weiwuying) and National Symphony Orchestra membership holders.
5% off for Bank SinoPac and Cathay United Bank credit card holders.
10% off for CTBC Bank, E.SUN Bank and Taishin International Bank credit card holders.
50% off for disabled persons plus one companion, and senior citizens 65 or above (ID required at entrance).
25% off group ticket price for groups of 20 or more per program.
※Only one discount may apply per purchase.
※Tickets purchased as a ticket package can not be individually returned or exchanged.
Notice
※85 minutes without intermission
※Latecomers will not be admitted
※Suggested for ages 7+