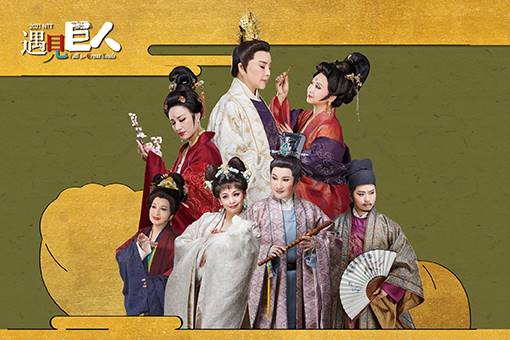 Tang Mei Yun Taiwanese Opera Company The Storyteller and Her Dream
10/23(Sat)14:3010/24(Sun)14:30
Introduction
The Storyteller and Her Dream is inspired by the classic Japanese literary work The Tale of Genji. The archetypes of the two protagonists comes the main character Hikaru GENJI and the author Murasaki Shikibu . Featuring TANG Mei-yun, the winner of the National Award for Arts as Kong-Huâ and HUANG Yu-lin as Lady Tîng, the stage adaptation tells the story of Lady Tîng, a genius writer who channels her feelings of lost and loneliness to her pen and creates the character, Kong-Huâ, who later on develops his own self-consciousness. The two starts a conversation about love and relationship. While Lady Tîng seeks a till-death-do-us-part relationship, Kong-Huâ leads a Casanova lifestyle. The juxtaposition of the creator and the character of her creation highlights the fictitious parallel of the author's reality and how the work reflects the pain inflicted by the writer's own frustration with ideal love lost.
Artistic and Creative Team
Tang Mei Yun Taiwanese Opera Company
With its mission to passing on the legacy of Taiwanese opera by finding a new path, Tang Mei Yun Taiwanese Opera Company is committed to elevating traditional opera to the level of fine art. The troupe not only enlists excellent senior actors in the field but also cultivate new talents. Over the course of 24 years, the company has been committed to the production of sophisticated and exquisite shows which explore possibility of interdisciplinary collaboration while preserving the traditional essence of Taiwanese opera.   
Kaohsiung Chinese Orchestra
Embracing both traditional understandings and modern elements, Kaohsiung Chinese Orchestra has been developing with a vision to preserve the classical essence of folk music while being innovative in the pursuit of an international in outlook. Over the years, the orchestra has invited and encouraged new compositions of Chinese music inspired by Taiwan's local traditions, cultures, and landscape. With a firm root in the local culture, the orchestra now strives to promote traditional music on the international stage and has performed in more than ten countries across the Americas, Europe, Asia, and Oceania.
Artistic Director & Producer / TANG Mei-yun
Director / TAI Chun-fang
Playwright / CHEN Jian-xing
Performer / TANG Mei-yun, WANG Chin-ying, Hsiao-mi, HUANG Yu-lin, LI Wen-hsun,
LIN Fang-yi, TSENG Mei-ping, Tang Mei Yun Taiwanese Opera Company,
Conductor / LIN Tien-chi
Kaohsiung Chinese Orchestra
Title
Tang Mei Yun Taiwanese Opera Company The Storyteller and Her Dream
Time
2021/10/23(Sat)14:302021/10/24(Sun)14:30
Duration
Approx. 155 minutes with a 20-minute intermission
Language/Surtitle
Performed in Taiwanese with Chinese and English surtitles
Price
500/800/1200/1600/2000/2500
Notice
Approx. 155 minutes with a 20-minute intermission
Performed in Taiwanese with Chinese and English surtitles
Suggested for ages 15 and above