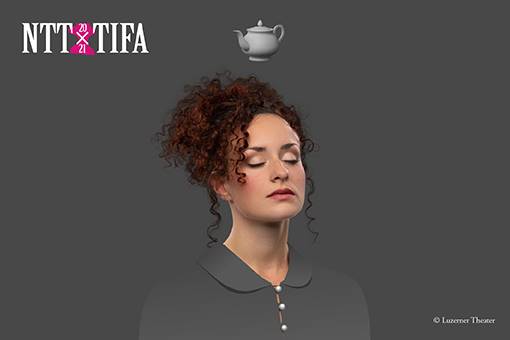 2021 NTT-TIFA B.DANCE ╳ Tanz Luzerner Theater, ALICE
05/28(Fri)19:3005/29(Sat)14:3005/30(Sun)14:30
Introduction
ALICE draws us with the breathtaking choreography, haute couture costumes and a stylish stage design into a very special wonderland, with an uncanny and deeply psychological atmosphere. A labyrinth of mirrors, artistic projections and black and white ink drawings unite poetry and fairy tale, as well as the western and eastern culture.
In this international collaboration between TSAI Po-cheng's "B.DANCE" and Kathleen McNurney's "Tanz Luzerner Theater", TSAI reimagines this classic work of children's literature, as a fantasy world of wonder meets the artistry of Zen.
Artistic and Creative Team
B.DANCE
Founded in 2014 by TSAI Po-cheng, B.DANCE mixes an extreme physicality with an oriental mysticism in their interpretations of original Taiwanese productions. B.DANCE has toured 45 cities in 21 countries, with their 235 performances receiving multiple awards and enthusiastic reviews across Europe. In addition, the company's mission is to foster local talent in dance through hosting international dancers and artists, and to promote original works from Taiwan on the international stage.
Tanz Luzerner Theater 
"Tanz Luzerner Theater" is one of the four departments of the Lucerne Theater, which is the oldest multipurpose theater in central Switzerland with four main departments: opera, drama, dance and puppet theater, hosting more than 350 performances each season. Since taking the helm of the dance department in 2009, Artistic Director Kathleen McNurney has made "Tanz Luzerner Theater" into an open forum for choreographic creation, to date hosting more than 40 new works by young choreographers from around the world.
Production Team
B.DANCE
Choreography / TSAI Po-cheng
Composer / Rockid LEE
Video Design / CHANG Po-chih
Dancers / CHANG Sheng-ho, HUANG I-han, CHANG Yu
Lighting Design / Otto CHANG
Rehearsal Director / YI Yen-ling
Stage Manager / PAN Pei-chun
Administration Manager /SUN Chia-fang
 
"Tanz Luzerner Theater" Ensemble
Artistic Director / Kathleen McNurney
Ballett Mistresses / Ilana Werner, Eva Zmedkova
Dramaturge / Sarah Brusis
Dancers / Lisa Gareis, Mathilde Gilhet, Phoebe Jewitt, Terra Kell, Valeria Marangelli, Andrea Thompson, Dario Dinuzzi, Carlos Kerr Jr., Igli Mezini, Mathew Pritchard, Flavio Quisisana
Co-Production / National Taichung Theater, "Tanz Luzerner Theater", Luzerner Theater
Title
2021 NTT-TIFA B.DANCE ╳ Tanz Luzerner Theater, ALICE
Time
2021/05/28(Fri)19:302021/05/29(Sat)14:302021/05/30(Sun)14:30
Duration
85 minutes, including a 15-minute intermission