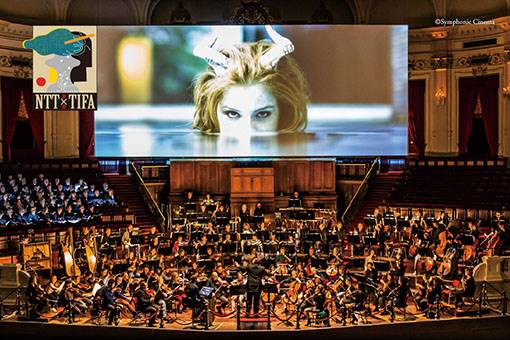 【CANCELLED】2020 NTT-TIFA Lucas van Woerkum ╳ Darrell Ang | NTSO Symphonic Cinema
04/18(Sat)14:30
Introduction
PERFORMANCE CANCELLATION

The performance is cancelled due to the outbreak of COVID-19.

Customers who have purchased tickets to 2020 NTT-TIFA Lucas van Woerkum ╳ Darrell Ang | NTSO Symphonic Cinema can apply for a full refund until May 31, 2020. Refund will be processed automatically for tickets settled by credit card. Ticket holder with ticket previously settled by cash, please visit ArtsTicket System or call +886-4-2251-1777.

Customers with tickets issued from ArtsTicket System:


1. Payment settled by Cash

Refund can be processed at Taipei, Taichung, Tainan, Kaohsiung service centers before May 31, 2020. If unable to apply for refund in person, please mail the ticket(s), a copy of your passbook, and your contact information to National Taichung Theater before May 31, 2020, at
National Taichung Theater, Box Office
40756 No. 101, Sec. 2, Huilai Rd.,Xitun District, Taichung City.

*Please put a note of "2020 NTT-TIFA REFUND" on the envelope.

2. Payment settled by Credit Card
Refund will be processed automatically.
Film as an extra voice in the orchestra... With his version of Firebird, Van Woerkum has introduced a new fresh way of looking at a fusion of music and film and with his bold project, breathes new life into performances of symphonies around the world.-NRC Handelsblad
The filmic narratives are intriguing, even puzzling, and hold the attention superbly.-The Arts Desk

With real-time synchronisation of films created by Dutch film director Lucas van Woerkum in Symphonic Cinema, the live orchestral music no longer remains subject to the pre-recorded video as in those trendy "film live in concerts" but comes first to create a mutually-responsive interpretation for the visual and musical narratives.
The stories told by classical music masterpieces are thus brought to life, inviting us to the world of Ravel's Daphnis et Chloé where Chloé, a mythical figure now in a metropolitan city, struggles between love and lust to pursue her true self, or the magical-realistic journey of Stravinsky's Firebird where the Russian folklore is given a cinematic touch. The concert will feature Darrell Ang conducting the National Taiwan Symphony Orchestra.
Programs
Maurice Ravel: Daphnis et Chloé suites
Igor Stravinsky: The Firebird
Artistic and Creative Team
Darrell Ang, Conductor
Born in Singapore, Darrell Ang is currently the artistic director and chief conductor of the Sichuan Orchestra of China. After receiving three awards at the 50th Besançon International Young Conductors' Competition in 2007, he also won the First Prize at the Arturo Toscanini Competition in 2008 which launched his international career. He was the music director of the Orchestre Symphonique de Bretagne and Singapore International Music Festival, and has shared a stage with world-renowned orchestras, including St. Petersburg Philharmonic, Konzerthausorchester Berlin, Munich Symphony, and Orchestre National de Lyon.

Lucas van Woerkum, Film Director and Image Soloist
Lucas van Woerkum studied film directing at the Utrecht School of the Arts, and French Horn at Fontys Conservatory Tilburg. He has directed music documentaries on composers such as Arvo Pärt, Willem Jeths and Michel van der Aa. His film Mahler: Ich bin der Welt abhanden gekommen premiered in the Holland Festival and was shown in the Auditorium of the Louvre in Paris. In 2007 Lucas turned his focus to drama films and began to transform stories in classical music into film scenarios in his Symphonic Cinema series, as seen in The Isle of the Dead (2011), Firebird (2014) and Daphnis et Chloé (2017-18).

National Taiwan Symphony Orchestra
Founded in 1945, National Taiwan Symphony Orchestra (NTSO) is the oldest symphony orchestra in Taiwan. Located in Wufeng, Taichung, the NTSO is a full-fledged music group with a full complement of software and hardware.
Over 70 years of history, under the directors of the past and the efforts of the current director LIU Suan-yung, the NTSO has accumulated extensive performing experience. Countless international teams and musicians have been invited to perform with the NTSO. Since 2019, the internationally renowned conductor maestro SHUI Lan has taken on the position of the NTSO Principal Guest Conductor.
Conductor / Darrell Ang
Film Director and Image Soloist / Lucas van Woerkum
National Taiwan Symphony Orchestra
Title
【CANCELLED】2020 NTT-TIFA Lucas van Woerkum ╳ Darrell Ang | NTSO Symphonic Cinema
Duration
100 minutes, including 20-minute intermission.