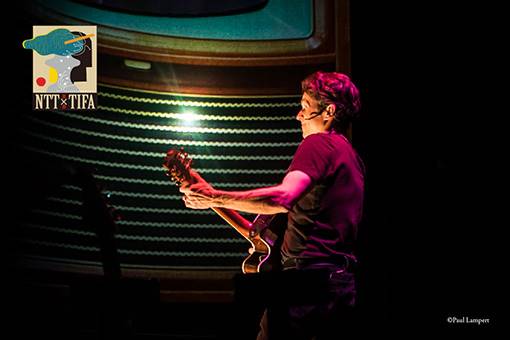 【CANCELLED】2020 NTT-TIFA Rick Miller ╳ Kidoons & WYRD Productions BOOM
05/30(Sat)14:3005/30(Sat)19:3005/31(Sun)14:30
Introduction
PERFORMANCE CANCELLATION

The performance is cancelled due to the outbreak of COVID-19.

Customers who have purchased tickets to BOOM can apply for a full refund until May 31, 2020. Refund will be processed automatically for tickets settled by credit card. Ticket holder with ticket previously settled by cash, please visit ArtsTicket System or call +886-4-2251-1777.

Customers with tickets issued from ArtsTicket System:

1. Payment settled by Cash
Refund can be processed at Taipei, Taichung, Tainan, Kaohsiung service centers before May 31, 2020. If unable to apply for refund in person, please mail the ticket(s), a copy of your passbook, and your contact information to National Taichung Theater before May 31, 2020, at

National Taichung Theater, Box Office
40756 No. 101, Sec. 2, Huilai Rd.,Xitun District, Taichung City.
*Please put a note of "2020 NTT-TIFA REFUND" on the envelope"

2. Payment settled by Credit Card
Refund will be processed automatically.
A solo performance by the multitalented Rick Miller, BOOM is an explosive journey spanning 25 years (1945-1969) of the Baby Boomer generation. The play follows the stories of three main characters, all portrayed by Miller: Maddie, who grew up under the shadows of alcoholism and domestic violence; Rudi, who grew up in Allied-occupied Austria devastated by the war; and Laurence, a draft dodger and victim of racial abuse. As their stories converge in Toronto in the late 1960s, Miller takes us through 100 different characters in 100 minutes, a time-lapse of the turbulence that was the post-War era. The play ends on the day when Rick Miller was conceived: the day of the first manned moon landing.
 
BOOM is a can't-miss theatrical experience. There is no question BOOM will become an international hit because its themes, characters and music are universal... Miss it at your own peril.☆☆☆☆☆
- Calgary Sun
A visual feast! Miller's best solo show to date – with a brilliant design concept that allows him to use his inimitable vocal talents to tell this story in a way that no one else could. - The Globe and Mail
BOOM is a deeply moving reflection piece that curiously, but not surprisingly, secures new found optimism. - TorontoStage.com
****1/2! BOOM is a must-see for all generations. A multimedia tapestry that seamlessly chronicles a period of 25 years.
- Theatromania
Rick Miller carries off the impossible task he has set for himself with energy and bravado! - Toronto Star
BOOM will blow YOUR MIND! A triumph of clever writing, state-of-the-art production and remarkable performance! - Edmonton Sun
A MIRACULOUS mirage… a solo tour-de-force. Miller is a protean shape-shifter.
- Vancouver Observer
Artistic and Creative Team
Rick Miller, Writer, Director and Performer
Rick Miller is a playwright, performer and director currently based in Toronto. With a formal background in both architecture and theater, Miller has been named as "one of the 100 most creative people alive today" by Entertainment Weekly, and is the recipient of both Gemini and Dora awards. Miller trained with the great Canadian director, playwright and actor Robert Lepage, and has frequently collaborated with his performing company Ex Machina; in addition, has also hosted the ABC show Just for Laughs, and his voice acting talents have featured in cartoons and Assassin's Creed Syndicate.

 
Kidoons & WYRD Productions
Writer, Director and Performer / Rick Miller  
Executive Production / Jeff Lord
Directing consultant / Ravi Jain
Stage Management and Director of Outreach Marketing / Craig Francis
Production Management / Rick Miller
Projection Design / David Leclerc
Lighting Design / Bruno Matte
Composer & Sound Design / Creighton Doane
Set, Costume and Props Design / Yannik Larivee
Design, Multimedia and Marketing / LOGOGRAPH
International Touring / Menno Plukker Theatre Agent (assisted by Isaïe Richard and
Magdalena Marszalek) menno@mennoplukker.com
Dramaturg (Performance in Taiwan) / KENG Yi-wei
Title
【CANCELLED】2020 NTT-TIFA Rick Miller ╳ Kidoons & WYRD Productions BOOM
Time
2020/05/30(Sat)14:302020/05/30(Sat)19:302020/05/31(Sun)14:30