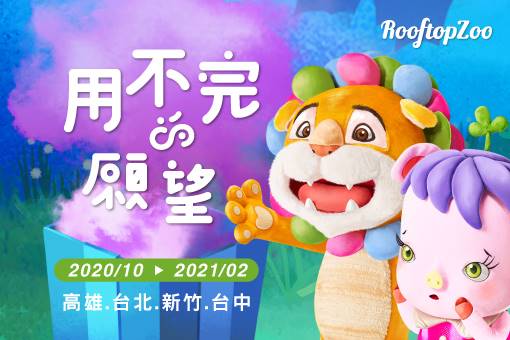 Rooftop Zoo Music Theatre Birthday Wishes
02/27(Sat)15:0002/28(Sun)15:00
Introduction
The birthday of Princess Feifei is coming! All the good friends in the Rooftop Zoo are thinking about how to celebrate and give Feifei the best birthday party in the world.
The secret seeds for Feifei sent by Tommy bloom into the "wishing flower!" It's said that the wishing flower may realize any wish people make on their birthday. Feifei is very happy and makes her wish, then amazing things happen, everyone's body starts to change?
Rooftop Zoo World has been changed because of Feifei's wish! How can every body persuade Feifei to change everyone back? Can Feifei be aware of her own mistake?
Title
Rooftop Zoo Music Theatre Birthday Wishes
Time
2021/02/27(Sat)15:002021/02/28(Sun)15:00
Duration
105 minutes, including a 15-minute intermission.
Language/Surtitle
Performed in Mandarin without surtitles
Price
350/500/800/1,000/1,200/1,500/2,000