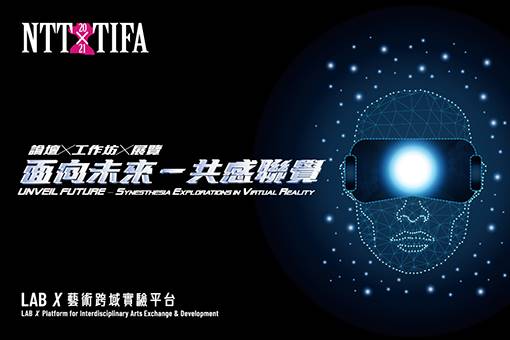 2021NTT-TIFA LAB X Exhibition: Unveil Future- Synesthesia Exploration in Virtual Reality
2021/04/20(Tue)~2021/05/02(Sun)
Introduction
"Unveil Future- Synesthesia Exploration" aims to explore future possibilities and practices of VR arts, and features interactive digital works of both local and international artists, delivering immersive experiences that allows viewers to explore the fantasy world of VR arts and its endless possibilities.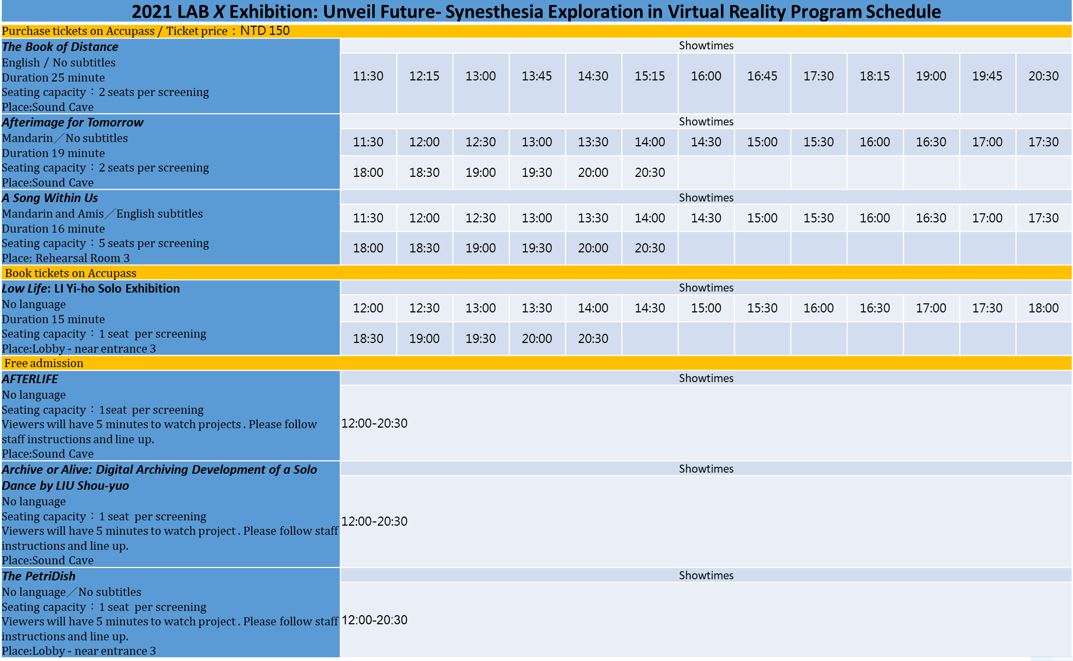 The Book of Distance
English/No subtitles
Duration 25 minutes
In 1935, Yonezo Okita left his home in Hiroshima, Japan, and began a new life in Canada. Then war and state-sanctioned racism changed everything—he became the enemy. Three generations later, his grandson, artist Randall Okita, leads us on an interactive virtual pilgrimage through an emotional geography of immigration and family to recover what was lost.
Writer&Creator:Randall Okita
Produced:National Film Board of Canada
Producer:David Oppenheim
Executive Producer:Anita LEE
Associate Producer:Kate Vollum
Project Manager:Oliva Amu
Art Director :Sam Javanrouh
Lead Artist :Emma Burkeitt
Lead Programmer:Luke Ruminski
3D Artists :Jeremy Canton、Paul Constance 
Concept Artist:Mohammed Karam 
Programmers:Michael Sebele、Jord Farrell 
Music & Sound Design : Menalon 
---
Afterimage for Tomorrow
Mandarin/No subtitles
Duration 19 minutes
Welcome to the Afterlife Memory Trust.  With us, you will be selecting three pieces of your memories to relive by the time you decease. When your life terminates, we will stimulate your neurons to bring out the designated memories. Each vision lasts a light time.
We perceive the world through eyes, ears, nose, tongue, body and mind. These sensory experiences are stored as memory in words, pictures, sounds and moving images. With fractions of the transcribed memories, we are capable of returning to a specific point in time, which is an act of distortion and overlaying of time and space. However memories aren't always reliable. A man wakes up in an unknown dimension of consciousness. What is it that he sees, hears and feels? Is it memory, virtual reality or terminal lucidity?
In Afterimage for Tomorrow, director Singing CHEN collaborates with choreographer CHOU Shu-yi to perform the ineffable in memories. This metafiction film sets in a futuristic world, where memories can be uploaded and perpetuated, thus leads to the discussion of what in life is worth storing. Persistence of Vision; when an object in rapid motion vanishes from sight, human brain creates a 0.1-0.4 seconds of optical illusion. How long will the images and memories we create today live in the future?
Director:Singing CHEN
Choreographer:CHOU Shu-yi
Dancer:PAN Bo-ling、FANG Yu-ting、YEN Wang-cou、YANG YA-chun、WANG Ning、LIN Hsiu-yu、WANG Chu-hua、TIEN Yi-wei、YU Chien-hung、CHEN Hsin-yu、YANG Qi-yin
Presented:Kaohsiung Film Archive
In Association with Funique VR Studio, Walkers Film Ltd.
Produced:Walkers Film Ltd.
---
A Song Within Us
Mandarin and Amis/Mandarin and English subtitles
Duration 16 minute
Written and directed by Fangas Nayaw, a Taiwan Amis indigenous theater director and choreographer, A Song Within Us is a sound-interactive VR experience with Ambisonic audio, and incorporates elements of traditional indigenous music.
After a stage rehearsal of Song of Tafalong, the director is summoned back to his tribe, where he is greeted by a lush forest and warm sunlight, enjoying the birds' chirping, the wind's gentle caress, and all the nature's wonders. Everything he hears and sees is Vuvu ("grandparents" in the Paiwan language, also means the spirits of ancestors), who is directing him, guiding him into sweet memories and the land's warm embrace. Will he be able to retrace his long-forgotten memories, and find his way home again?
Director:Fangas Nayaw
Cast: Faidaw‧Fangod
Song of Tafalong: an original work:Ka`ti Karo
Artist:AmuBwiy Puing Culture Arts Group
Director of Photography:Wayne LO
Production Designer:LIAO Yin-chiao
Music Director:Owen WANG
Executive Producer:CHEN Estela Valdivieso
Producer:CHEN Estela Valdivieso, Hazel WU
Co-producer:François Klein、Thomas Villepoux、LIN Jinyao
---
Low Life: LI Yi-ho Solo Exhibition
No language/No subtitles
Duration 15 minute
Artist LI Yi-ho created a VR embodied experience that allows viewers to roam around in a kitchen as a cockroach. In addition to the VR content, motion-sensing equipment that mimic a cockroach's antennae, wings and cerci are added to simulate the feedback mechanism used by cockroaches to sense the surroundings. In this project, viewers will meet other creatures living in the kitchen, and have surprise encounters with humans. 
Note: The project "Low Life: LI Yi-ho Solo Exhibition" requires sitting on a special installation, viewers are advised to wear pants.
Producer:HUANG Wen-hao
Artistic Director:WANG Po-wei
Administrative Coordinator:Laura CHEN ,CHANG Jung-an
Technical Director:TSAI Tsun-hung
Artist╱VR Creative Content / Installation Design:LI Yi-ho
VR Programmer/ Interactive Design Programmer:CHANG Yuan-an
VR 3D Model:LAI Ching-yu, TSENG Po-yuan, WANG Tsai-chieh
VR Content Recording:LIN Ching-hsuan
Installation Consultant:Mark Fabrication
Installation:SU Tsan-yuan, CHAN Yuan-an, TSAI Meng-ru
Material Provided by LI Yi-ho
Technical Cooperation:ET@T 
---
AFTERLIFE
No language
AFTERLIFE is an online MMO game, an experimental space, and a curatorial project. Inspired by reincarnation and the space-time structure from Buddhism tradition, the special 6 hours and 30 minutes long live program includes a showcase of Taiwanese experimental artists, a pan-Asian DJs and producers, and a video screening.
Producer:NAXS corp.
Plan:NAXS corp.,Meuko! Meuko!
Technical Director:GUO Yi
Visual Design Director:FONG Han-yu
Music Director:Meuko! Meuko!
Visual design and execution: FONG Han-Yu, eg.lio, GUO Yi
Programmer:GUO Yi, HUANG Guo-bin
Cinematography& Post-Production:YEH Che
Artists:Dutch E Germ, CHANG Hui-sheng, Scattered Purgatory, Meuko! Meuko! CHANG Hung-tai, Prairie WWWW、Sonia CALICO、NONEYE, Software 2050
Video Exhibition:CHEN Tian-zhuo
DJ MIXES:Sonia Calico、Gabber Modus Operandi、33EMYBW、Hyph11e、Leevisa、ASJ╱Charlisha Leung、Mars89、Wanton Witch
---
Archive or Alive: Digital Archiving Development of a Solo Dance by LIU Shou-yuo
No language
Archive or Alive: Digital Archiving Development of a Solo Dance by LIU Shou-yuo  archives LIU Shou-you's solo dance work Shapde5.5 (2014) through panoramic camera and multiple perspective filming. The project showcases the results of his 30-year exploration of "body performance", presenting a dancer's thought process from within, as well as the relationship between the body, substance and non-substance. From the entrance of VR, the audience can choose from 6 pieces of panoramic videos, including 3 sections of physical performance in Shapde5.5 , and 3 pieces of improvisations. In the panoramic video, the audience can change to another perspective by selecting. With this new and unlimited viewing experience, this project provides a possible solution of archiving "body" and "movement".
Note:Viewers will have 5 minutes to watch projects and participate in it. Please follow staff instructions and line up.
Producer:ET@T
Concept&Development:ET@T, LIU Shou-you
Principal Investigator:HUANG Wen-hao
Co-principal Investigator:WANG Po-wei
Manager:YEH Hsing-jou
Trchnical Director:TSAI Tsun-hung
Technician:TSAI Meng-ru
Choreography╱Director╱Performer : LIU Shou-you
---
The PetriDish
No language
If our mind can be transmitted and re-presented, is it possible that humans are just trapped in a virtual machine?
The PetriDish is an interactive installation system. The moment when the experiencer puts on a VR headset, a piece of mind will be transmitted to the installation. The participant can walk around and explore freely in the space, with his/her field of vision following the same direction inside the installation. In the process, the participant will gradually recognize the new space constitutes the reality.
However, as the participant's viewpoint moves to the border, triggering the surrounding glass to become transparent, the external world will be revealed, and the participant will see the views outside and himself. At this moment, the mind is inside the installation, while the body is on the outside. Perplexed as to the separation of body and mind, the participant goes on to realize that the world is a constructed virtual machine, and we still don't know the real source of our mind.
*Note: The VR project is free of charge. Please follow staff instructions and line up. Viewers need to remain standing during the process, and are allowed to walk around in the designated area for an optimal viewing experience.
Producer : HUANG Hao-min
Title
2021NTT-TIFA LAB X Exhibition: Unveil Future- Synesthesia Exploration in Virtual Reality
Time
2021/04/20(Tue)~2021/05/02(Sun)
Price
Accupass on-line registreation
Presenter
Organizer:

Special thanks:
Notice
1. If you purchase tickets or sign up online, please arrive 10 minutes before the screening starts to check in at the information desk. There will be  no  admittance 5 minutes after the screening begins. No refunds nor exchanges are available.
2. Viewers could sign up for free viewing experience at the information desk. Please follow staff instructions.
3. Due to the impact of VR use on vision, the exhibition suggested for ages 13+
4. Please follow staff instructions to wear the headset.
5. If you experience any discomfort, nausea, eye soreness or dizziness, please raise your hand directly and inform the staff, our team will help pause the screening and help take off the VR headset.
6. Participants prone to or with a history of epilepsy symptoms should take into consideration their health status before signing up for the event.
7. The VR headsets used in all projects can accommodate glasses; for viewers wearing contact lenses, keeping them on is preferable for comfort.
8. The organizer reserves the right to change or modify the event terms and conditions. Any matters not addressed may be supplemented and announced without prior notice. For related questions or requests, please contact 04-24155830 (Ms. CHENG); 04-24155807 (Ms. HSIANG), or 04-24155761 (Mr. FU)