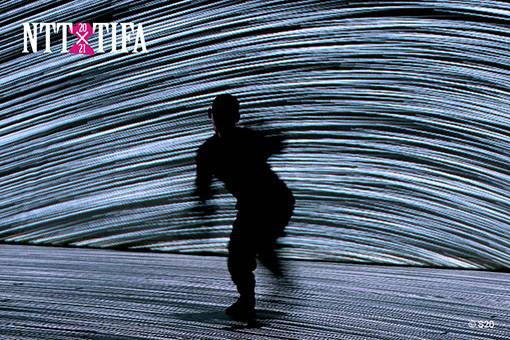 2021 NTT-TIFA Intensional Particle & Concurrent Sequence by Hiroaki Umeda
03/20(Sat)14:3003/20(Sat)19:3003/21(Sun)14:30
Introduction
In this double bill, the pioneering hi-tech choreographer Hiroaki Umeda once again brings his hallmark blend of digital technology and dance to Taiwan.
In Intensional Particle, the trembling Umeda transmits energy within and around him to the screen behind, where lines, lights and figures join in a digital reality of "unstable stability." In contrast with this solo work, Concurrent Sequence is a collaboration with contemporary and street dancers from Japan and Taiwan, with Umeda developing an original choreographic method to bring out the individuality and strength of each dancer in a trans-cultural, trans-genre common vocabulary.
Artistic and Creative Team
Intensional Particle
Choreography and dancer / Hiroaki Umeda
Image Direction / S20
Visual Research / Ludovic Burczykowski
Image Programming / Shoya Dozono
Video Editing / Guillaume Gravier
Sound and Lighting Design / S20
Coproduction / Le Manège – Scène Nationale, Le Manège Mons, Gare Numérique - Jeumont, Maison des Arts de Créteil, Stereolux - Nantes, Mapping Festival - Genève
Concurrent Sequence
Choreography / Hiroaki Umeda
Dancers / Livier Tu, WANG Ning, Pobo Hung, AYUMI, Yuki Nakamura, Yoko Omori
Coproduction / National Taichung Theater
Premiered in 2021 NTT-TIFA
Production / S20
Director / Hiroaki Umeda
Production Management / Suzuko Tanoiri
Special Thanks / Thinkers' Studio, Les Petites Choses Production Studio
Title
2021 NTT-TIFA Intensional Particle & Concurrent Sequence by Hiroaki Umeda
Time
2021/03/20(Sat)14:302021/03/20(Sat)19:302021/03/21(Sun)14:30
Ticketing Info
NTT Member pre-order from 1st January. Tickets available from 8th January.
Ticket Packages
Purchase four or more tickets of NT$1000 for a single program and receive a 25% discount.
Purchase any five or more programs at the same time and receive a 22% discount.
Other Discounts
10%-25% off for NTT membership holders.
10% off for National Theater and Concert Hall, National Kaohsiung Center for the Arts (Weiwuying) and National Symphony Orchestra membership holders.
5% off for Bank SinoPac and Cathay United Bank credit card holders.
10% off for CTBC Bank, E.SUN Bank and Taishin International Bank credit card holders.
50% off for disabled persons plus one companion, and senior citizens 65 or above (ID required at entrance).
25% off group ticket price for groups of 20 or more per program.
※Only one discount may apply per purchase.
※Tickets purchased as a ticket package can not be individually returned or exchanged.
Notice
※70 minutes, including a 10-minute intermission
※This program contains strobe and loud sound effects. Viewer discretion is advised.
※Suggested for ages 15+