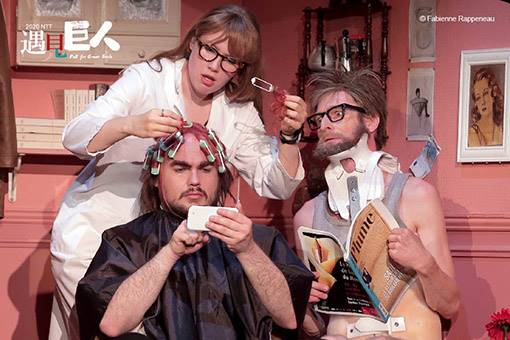 【CANCELLED】Le Fils du Grand Réseau Theatre Company Fishbowl
12/11(Fri)19:3012/12(Sat)14:3012/13(Sun)14:30
Introduction
PERFORMANCE CANCELLATION
Due to the global impact of the COVID-19, some of the artists and performance groups from abroad are unable to participate in Fall for Great Souls series as scheduled. We hereby announce the cancellation of this program.
Once upon a time today, three neighbors lived in three small attic apartments in Paris: a large, techy man who leads a regular lifestyle, a tall thin man who is a kludgy packrat, and a curvaceous yet dim-witted blonde. These three oddballs have a special talent for messing everything up, and as one disaster leads into another amidst a deluge of jokes, this quirky trio cling to anything that looks like love, life or hope.
Taking inspiration from the physical antics of Charlie Chaplin, Jacques Tati and Mr. Bean, Fishbowl is at once both realistic and absurd, as its characters stumble through the regular hilarity of everyday apartment life. Prepare to roll on the ground in this laugh-out-loud-silent comedy!
An absurd little gem. Three clowns with no red noses in a show with no words that is filled with laughter, dreams, absurdity and tenderness. A show that tells of our faults, petty-mindedness, disillusions and hopes.  La Chaîne Info 
Goodness knows Fishbowl is funny, bursting with inventive jokes. But it evokes a special kind of laughter as the emotions it elicits do not go away once you've left the theatreLe Monde
Artistic and Creative Team
Playwright, Director, & Performer / Pierre Guillois
Playwright & Performers / Agathe L'Huillier, Olivier Martin-Salvan
Assistant Director / Robin Causse
Stage Design / Laura Léonard
Costume Design / Axel Aust
Lighting Design / Marie-Hélène Pinon
Hair, Wigs & Makeup / Catherine Saint-Sever
Sound Design / Roland Auffret, Loïc Le Cadre
Production / Le Fils du Grand Réseau Theatre Company
Co-Production / Le Quartz-Scène nationale de Brest, Le Théâtre de L'Union-Limoges, Le Théâtre de la Croix Rousse-Lyon
Title
【CANCELLED】Le Fils du Grand Réseau Theatre Company Fishbowl
Time
2020/12/11(Fri)19:302020/12/12(Sat)14:302020/12/13(Sun)14:30
Duration
85 minutes without intermission
Notice
※85 minutes without intermission.
※This program contains nudity and adult themes. Viewer discretion is advised.
※Suggested for ages 15+