T.A.P. Project 2023-24 Open Call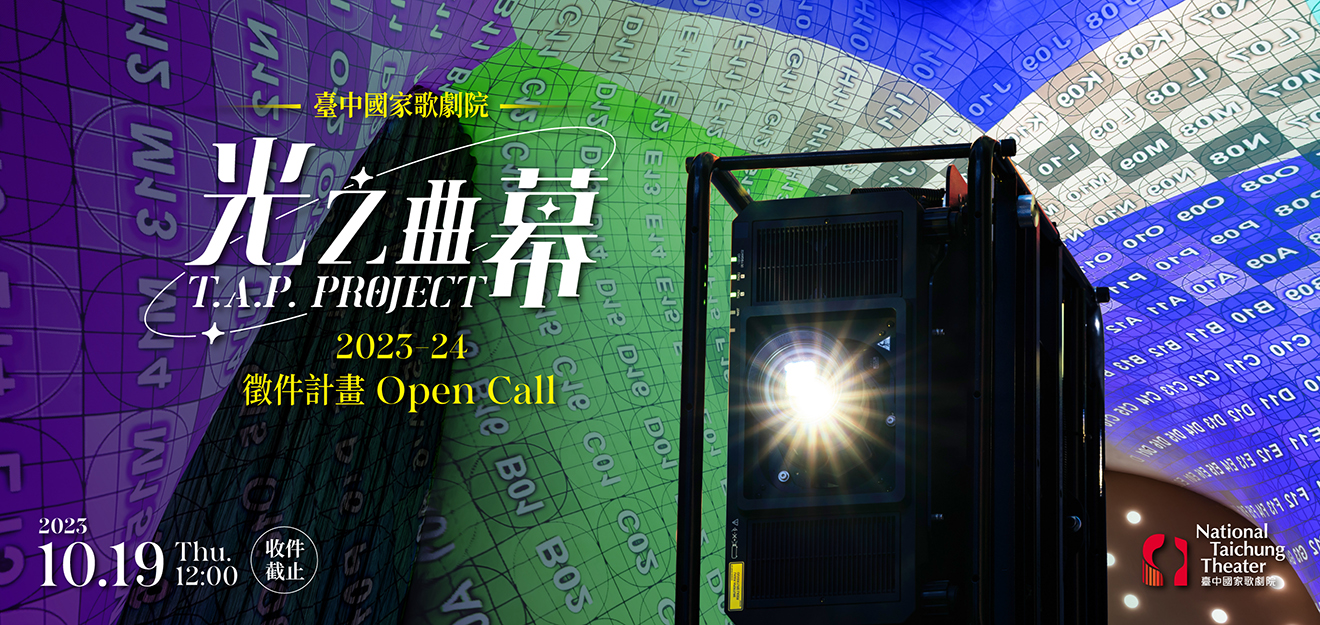 The National Taichung Theater is an unconventional theater which unleashes the infinite power of imagination, dedicated to advancing interdisciplinary creativity by merging technology and in the performing arts. Among its programs beloved by the media and the public, is the mesmerizing T.A.P. Project, an immersive curved wall projection installed in the foyer of Grand Theater on the second floor. The project has attracted a cumulative audience of 800,000 with 12 productions since 2020.
T.A.P. Project 2023-24 Open Call (hereinafter referred to as the Project) invites new media artists to explore limitless possibilities within the realm of immersive visual experimentation.
About the theme
| | |
| --- | --- |
| Theme | Summer Fun Time #PLAYGROUND |
| Duration | From July 1st to September 8th, 2024 |
| Venue | The 2F Foyer of Grand Theater, National Taichung Theater |
| Video Specifications         | Duration of the feature film: 5 minutes / 5000 (W) x 5000 (H) / HAP / MOV                                                                                                                                                                                                     |
Eligibility
Individuals or domestic entities, engaging in the creation of new media art and video works nationwide. Domestic entities include registered studios, legal entities, or groups that have been legally established, registered, or filed. Collaboration is open to individuals or teams, both at home and abroad. When applying as a team, each individual is limited to participating in one team, and at least one team member must be a natural person with Republic of China citizenship.
Submission Guidelines
| | |
| --- | --- |
| Submission Period | From June 12, 2023, to October 19, 2023, 12:00 PM (Taiwan Time). |
| Submission Method | Online application only. Please complete the application form and upload the following documents: |
(1)

Individual Application:

Copy of both sides of the ID card.

---

Team Application:

Copy of registration documents of the team.

File format is PDF or JPG or PNG with a maximum file size of 2MB.                        

(2)

Project Proposal:

There are no specific format requirements, but the proposal should include, but not be limited to, the overall creative concept, artistic features, execution plan, brief introduction of the production team, and a summary of major works from the past two years.

File format: PDF.

Photos or links to audiovisual portfolio can be attached to the proposal with a maximum file size of 15MB.           
Open Call Procedure and Evaluation Method
Phase 1 

             

Submission/Preliminary Review/Desk Review

---

Evaluation criteria: Completeness of application materials, alignment with the theme, and feasibility of the project proposal.

*Incomplete or ineligible applications will not be accepted.

---

Announcement of Selected Projects: By October 31, 2023, a total of 10 projects will be selected.

Phase 2

Second Review/Interview

---

Evaluation criteria: aesthetics and uniqueness of creative expression, technology application, and feasibility of project execution.

Interview date: November 8th to 10th, 2023.

*10-minute project presentation and 10-minute Q&A by a panel of judges. The Q&A session will follow a format where the judge presents all the questions together, and the applicant(s) responds to each question. Failure to attend the interview will be considered as giving up the qualification.

(Location: National Taichung Theater)

---

Announcement of Selected Projects: By December 5, 2023, a total of 5 projects will be selected.

Phase 3

Production and testing

---

Schedule: January 1, 2024 to June 10, 2024

*Selected projects have free access to the projection system and existing hardware equipment in the foyer of the Grand Theater. Additional equipment should be prepared by the applicants. Selected applicants are required to comply with at least 3 screenings and technical tests, which will be scheduled by NTT.

Phase 4

Screening and voting

---

Screening and voting period: July 1st to September 8th, 2024

Voting members: Judges, all NTT staff.

---

Announcement of voting results: Before September 15, 2024
*The results of the first and second phases, as well as the voting results, will be announced on the official NTT website. Applicants who are not selected will not be individually notified.
Funding and Prizes
Phase 2

Each selected team will receive a production grant of 80,000 New Taiwan Dollars.

Phase 4

Cash prizes of 200,000 NTD, 100,000 NTD, and 80,000 NTD will be awarded to the top three entries based on the voting results, in order of ranking.
Guidelines and Rules
Entries must be original works created in 2023, and should not involve plagiarism, imitation, theft, unauthorized use, or reproduction of others' works.

Works must not involve violence, pornography, defamation, or any violation of laws, public order, or good morals.

The content of the works, in full or in part, including related audiovisual and textual materials, must not infringe upon the intellectual property rights of others such as copyright. The creators are responsible for any legal violations or infringement of the rights of NTT. NTT reserves the right to cancel or nullify the eligibility of creators who do not comply with the rules or provide incomplete information.

Selected applicants in the first and second phases will be notified by email. Selected applicants must confirm their participation by the specified date and return a signed consent form (Individual/ Entity) in the second phase. Failure to do so or providing incomplete information will result in the forfeiture of the qualification. Non-selected participants will not be individually notified.

Selected applicants in the second phase agree to authorize NTT the rights to use the videos they created, free of charge, for promotion purposes on NTT's own or authorized print and digital media as well as platforms, including reproduction, adaptation, public screening, and advertisement. There is no limitation on the number of uses, and NTT retains the rights to the produced content. The authorization period is from January 1, 2024, to September 8, 2027.

Selected works must not be publicly disclosed in full or in part before the official screening, except with the prior written consent of the NTT.

Applicants entering as a team should provide a detailed list of team members for administrative purposes, along with detailed information about the team representative. The rights and obligations shall be exercised by the team representative.

Selected applicants must faithfully execute the proposed plans as stated in the application form. Any changes in artistic content, scale and structure, production team, main creators, or production schedule must be submitted at least one month before each phase. NTT reserves the right to approve or revoke the selected qualification.

If there is a significant delay in production progress or a significant deviation from the original proposal, NTT has the right to cancel the screening qualification of the work, and the selected applicant must return any production grants already received.

Selected applicants must cooperate with NTT's marketing and promotion arrangements at each phase.

NTT collects personal information from applicants, including name, date of birth, national identification number, address, email, and phone number, in accordance with the Personal Information Protection Act, for confirmation, certification, and communication purposes. If there is a need to request access, copies, supplementation, or correction of personal information, or to request the cessation, processing, utilization, or deletion of personal information in accordance with the Personal Information Protection Act, please contact the project coordinator. Applicants are free to choose whether to provide relevant personal information, but failure to provide complete personal information may result in the inability to verify the accuracy of personal information or receive timely information related to the call for entries.

According to the Act on Recusal of Public Servants Due to Conflicts of Interest, team members (including directors, supervisors, executives, artistic directors, company leaders, and key managers) who have relevant duties, management, oversight, procurement responsibilities, or supervisory roles at the National Performing Arts Center and its three sub-venues should recuse themselves if any of the following circumstances apply:

Same person.

Individuals with a spousal relationship.

Individuals with a blood relationship within three degrees.

NTT reserves the right to modify the selection process and has the final interpretation of these guidelines.
Project Coordinators Contact Information
Technical & Production Department, National Taichung Theater
E-mail:tpd@npac-ntt.org
Tel:04-2251-1777
Contact person: Ms Ho#5879, Ms Huang#5885
※Available from Monday to Friday 10:00-17:00